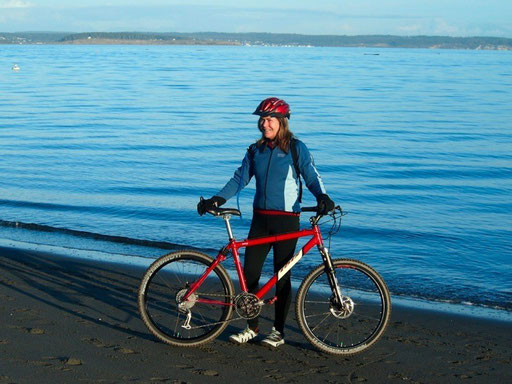 One of my favorite ways to spend time with my family is riding bikes together. Today the three of us rode up and back the length of Port Townsend's Larry Scott Trail, all invigorated by the chilly air, the sun shining on Port Townsend Bay, and the luxury of a perfect bike path. 

We started family rides together when our son was a baby. My coworkers gave me a baby bike seat when he was born, and it always felt so top heavy that we quickly switched to a trailer. I remember tucking him into the trailer with his bike helmet, snacks, toys, and a cassette player playing Winnie the Pooh. Before long we graduated to the Family Tandem, which is brilliantly designed to grow with a child, and we adjusted the length of the pedals as his legs grew. And then he was riding on his own, with training wheels, and then without. Years passed and we discovered the fun of mountain biking together on red dirt canyon roads that led to the sea on Molokai. A few years ago we biked on a memorable overnight trip from our home in California to Point Reyes National Park. (The ending is so sad I'll skip the details right now, as I ended up on crutches.) 

Today was just another terrific ride with the three of us. We rode road bikes, though this photo by my son shows me a couple days ago on a mountain bike. We felt joyful, lucky to be out in nature, delighted to be strong and healthy as we whizzed along together.