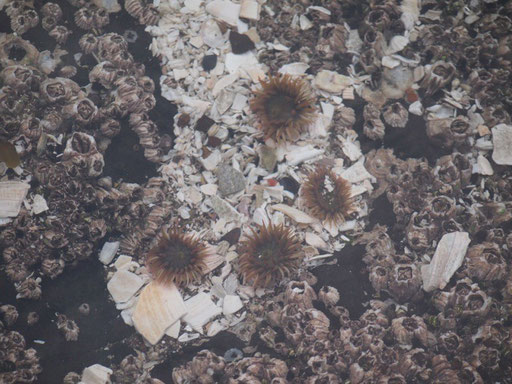 It was a day of birds and beaches, and also rose hips. I joined some local birders at Lower Oak Bay County Park, ten miles away in the cold, gray morning. We watched hundreds of elegant Northern Pintail ducks bobbing on a lagoon by the beach. We were excited to spot a Bald Eagle suddenly soar overhead, right after the ducks had seen it. They immediately lifted into the sky, swirled around a couple of times, and when the eagle flew on, they settled again in the lagoon. 
As it started to rain, the people dispersed, so I drove to Portage Beach on Indian Island, where it wasn't raining. I stepped onto a narrow beach formed from piles of broken clamshells, and noisily walked the length of the shore, until rocky cliffs wouldn't let me step any farther. The clamshell beach sloped down under calm, clear waters of the Puget Sound and I photographed sea anemones and barnacles just a few inches beneath the surface. The only other people were two women hauling up a double kayak onto the shore. I felt so lucky to be there, crunching along the shore, watching loons, a few cormorants, and some Buffleheads.
Then I noticed vermilion rose hips right above the beach, beautifully ripe. When I started riding my bike around Port Townsend's back roads this summer, it was fun to inhale the sweet fragrance of wild pink roses in full bloom along the roads and paths. The petals blew off in the wind over the autumn months. I've been riding my bike past rose hips deepening in color, remembering a winter many years ago I spent in a tiny village in the Argentine Andes. Missing pancakes and not having maple syrup, another American woman living there suggested making rose hip syrup, which turned out sunset orange and tangy, delicious on my pancakes cooked over a wood burning stove. A few decades passed, and today I gathered the Indian Island rose hips, found a recipe, and again made syrup.