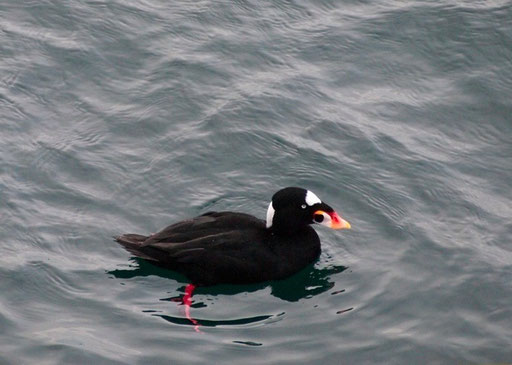 This photograph shows you the Surf Scoter, a sea duck that could have been designed by Dr. Seuss, and one I see in great quantities now that I live on the Olympic Peninsula. Before moving here, I had only seen a few in the distance, bouncing beyond the breaking waves at Point Reyes. Yesterday I saw dozens when we boarded the ferry to go to Seattle, which I've found to be the best place to photograph Surf Scoters up close. They are so comical to watch, as they chase each other and dive for food with their silly looking bills, white eyes, and bright red feet.
Today I ended up seeing hundreds of Surf Scoters, as today was the Christmas Bird Count here in Port Townsend. Every Audubon group across the country picks a day in late December to divide up the local territory and groups of enthusiastic birders roam around their section that day to tally as many species and number of birds as possible. I've joined groups for the past few years when I belonged to Marin Audubon, and it was fun for me to participate here. 
Not long after sunrise I joined four other birders at Point Hudson with binoculars and scopes to scan the sea through the gray dawn for cormorants and loons. As the skies cleared, we walked along the cliffs, zigzagged through neighborhoods, three parks, and Fort Worden, over the hill to the lighthouse, ending back at Point Hudson after sunset, but still able to count shorebirds in the dim light. We only stopped once to grab a quick bowl of hot potato soup at the home of one birder. By the end of the day we had identified 67 species, my second highest total ever for one day. Although I didn't see any new species, it was exciting to see hundreds of Surf Scoters and gorgeous black and white Hooded Mergansers along with dozens of Dunlin, Ruby-crowned Kinglets, Horned Grebes, and Marbled Murrelets, all such great names for beautiful birds. Nine hours outdoors, six miles of hiking, and hundreds of Surf Scoters... a perfect day for me!